Home Services Maintenance Business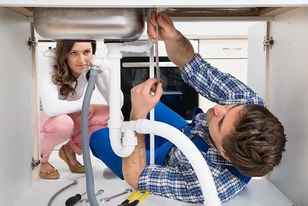 About Your Personal Plumber
Your Personal Plumber is a full-service gas and plumbing business serving Perth and the surrounding area. With over 10 years of service in our local community, we provide reliable, dependent, and quality plumbing and gas services for home and commercial clients. We provide basic services such as tap and toilet servicing and repairs, higher end services such as various types of hot water systems, and emergency services for gas, leaks, blockages, and burst pipes. This range of services is why Your Personal Plumber is the place to go for trusted and reputable Perth plumbers.
Your Personal Plumber is proud to provide a plethora of services, offering the entire range of gas and plumbing services so we can do the entire job for you! We work from the very beginning, offering evaluation and quotes; appliance installation; cleaning, servicing, and maintenance; repair; replacement; and renovations. On top of doing all of the required jobs ourselves, we offer a diverse range of gas and plumbing services, including Tap services and replacement, toilet repair and replacement, hot water repair and maintenance, burst pipes, roof leaks, guttering, irrigation, and gas fittings. We offer the complete suite of gas and plumbing services so you can rely on Your Personal Plumber for any job you need!
We pride ourselves on being just what our name says: Your Personal Plumber. That's why we wire the best licensed plumbers and gas fitters, and tailor our business to focus on the customer experience and satisfaction. This is another reason we provide all gas and plumbing services from beginning to end of service needs. We will deal directly with you, offering proper, precise, and punctual services whether it is installation, maintenance, or repair; we treat every job the same and guarantee quality service. We are so confident in our products and services that we offer a 100% guarantee on our services and labor. We also offer free quotes and don't charge call out fees. This is just another way of proving that we stand behind our services.